You wake up one morning, look around, and it's just another day in Mesolithic Britain.  This is the premise of Mezolith (Volume 1), published by Archaia, 2016, 96pp., an awesome graphic novel born out of the collaboration of Ben Haggarty, a performance storyteller, and Adam Brockbank, an illustrator who has  worked among others on the movies Harry Potter, Captain America, Star Wars, X-Men… Together they tell the story of Poika, a boy from the fictive 10000 BC Kansa tribe, following his path to adulthood. First published in 2010, this is an  award-winning, highly-acclaimed novel, and one of The Times's Graphic Novels of the same year.
Genre
Fiction, Graphic novel
Structure
This is an inspiring visual story of a Mesolithic tribe, one that fully embodies the good point made by Adrian Currie & Kim Sterelny (In defence of story-telling, 2017) that: 'narratives are central to the success of historical reconstruction […] Speculation is often productive: it furthers our epistemic reach by enabling us to identify the diverse lines of evidence knowledge of the past requires' .
In this book the authors interweave folk tales, myths, the supernatural, and
serious archaeological research
into a 'reconstruction' of a probable Mesolithic way of life. One can find references to Star Carr – the setting-, to the incredible Vedbæk grave, where a child was placed upon a swan's wing, to rites of passage and boundary marks, to Cueva de las Manos in Argentina, and many more. And then, there are crows and shamans, swans and immortal beings, body parts trophy taking and mirror stones, coming together and fleshing out the archaeological data.
The book is divided in several episodes which follow in the steps of a condensed bildungsroman, but they could also function as stand alone pieces.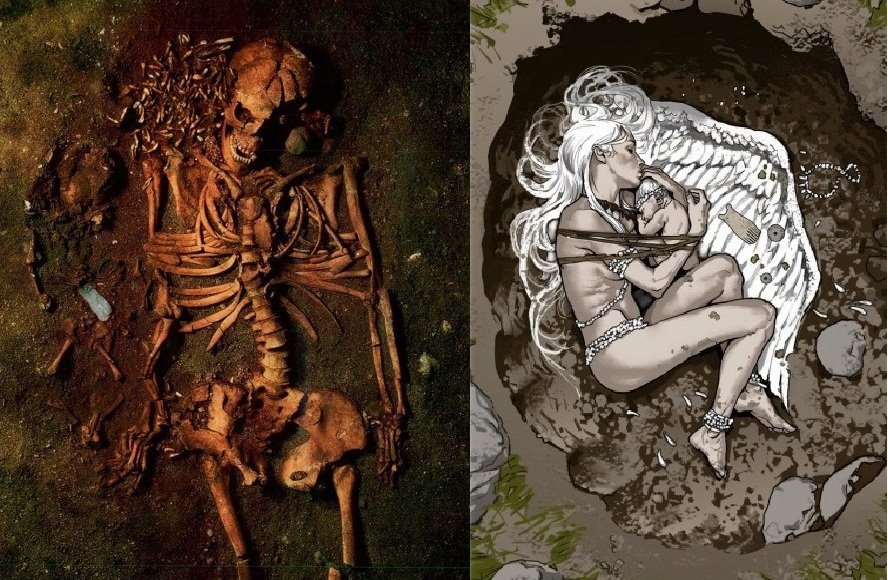 Style
Easy to read in one sitting, with gorgeous coloured illustrations.
This of course is not an archaeological text, and it draws on elements from different cultural contexts/ times. Nevertheless it uses in a fruitful speculative way information that we know, to create a story of what might have been like to live 12000 years ago in a village somewhere in Europe.
''True,' 'probably,' 'proofs,' and 'possibilities' are interwoven, while at the same time remaining rigorously distinct.' as Carlo Ginzburg wrote (Threads and Traces: True False Fictive, 2012).
Highlights
Could be improved
Nothing. Just looking forward to more novels in the same vein!
Audience
I think this can be a great inspiration (& entertainment) for any archaeologist (enthusiast) out there.
If you liked this you might also want to have a look at:
 => Up next week: I will take a break, but will be back in 2 weeks time with some fresh titles.